Safety Code:
The Tripoli Rocketry Association High-Power Safety Code or Research Safety Code will be in effect.

Registration:
You must check in and get flight cards before flying. High-Power flyers must present proof of current Tripoli membership with the proper certification level. No flights will be allowed with "expired" status. If you are 18 years old and younger, you must have parental supervision to fly reloadable motors and/or motors above F impulse. At Research launches, minimum age is 18 years and flyer must be a Level 2 or higher. Each rocket flight requires that a flight card be properly completed before launch.

Range:
No alcoholic or other types of intoxicants will be allowed on site. Smoking is permitted only in the spectator area. No smoking is allowed within 25 feet of check-in or flying areas. All children/young adults under the age of 16, flyers or spectators, are to be supervised at all times by their parents/guardians. Pets must be on a leash. If your rocket lands in one of the launch pad areas, wait until that area is declared "SAFE" by the Launch Control Officer (LCO) before recovering your rocket.

Range Safety Officer (RSO):
The RSO can refuse any flight for any reason. NO ARGUMENTS!!

Trash:
Every participant is responsible for his or her own garbage. Please check your prep area carefully at the end of the day and remove all trash. Please place any used igniters in the trash pails provided.
Waiver:
Please be prepared to provide flight simulation data to ensure that the waiver will not be broken. Remember that an FAA Waiver gives us the right to share the airspace with other users. However we do not have exclusive use of the airspace. We will suspend operations temporarily when aircraft approach.

Cloudy Weather:
It is a violation of FAA regulations to fly rockets into any cloud. In the event that we experience cloudy weather, we will try to determine the approximate cloud ceiling so that you may legally fly beneath it.

Altimeters/Timers:
These devices will only be armed after the rocket is loaded onto the launch pad.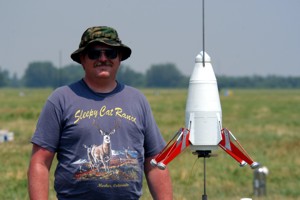 Launch Rod Angles:
It is each flyer's responsibility to angle his or her launch rod/rail so that rockets do not fly over the spectator area. Please give the Pad Managers and LCO your full cooperation. Please angle your rocket away from the crowd, roadways and buildings.

Rocket Motors:
Only motors certified by TRA or NAR will be allowed to fly. The only exception is during Research launches. Whenever there is a certification conflict, the TRA list will take precedence. Igniters for High-Power (H-L) motors will only be installed in the motor(s) after the rocket is loaded onto the launch pad.

Impulse:
Impulse of rockets will be limited to D to K. Even with prior approval, all complex, K & L projects will be subject to the usual RSO checks on site to determine the rocket's flight worthiness.

Complex Rockets:
Please be sensible in the projects you expect to fly. Keep in mind the size of the field and its proximity to roads and buildings. It would be helpful to provide us with data on complex projects such the CP/CG, thrust to weight ratio, flight simulations, or whatever else might be useful for the RSO to use in determining whether the rocket may fly. No thermalite air starts are permitted.

High-Power Certification:
Arrangements must be made in advance for all certification flights. TRA Level 2 exams will be given upon request. When making a certification flight, please have all your paperwork in order before you come to the RSO Check-In table. For Tripoli testing and certification, contact the NOTRA Prefect, Chris Pearson at notra@earthink.net or 440-449-2246.