Bruno's Motel
The Actual Hotel. All you've ever read about and nothing more!
Gerlach, NV has 40 rooms and has limited availability. The rooms are rated 5 STARS minus 4½, but the showers are the greatest after a day out on the playa! Rates vary from person to person and to this day nobody has been able to figure out exactly how much a room costs. There are cheap rooms and there are some rather comfortable rooms with a fridge, coffee maker and a microwave (most rooms now have a mini-fridge). Expect to pay between $45 to $85 a night. Most rooms have two beds however, they've been known to hold up to 12 people each! It's like indoor camping with a roof. Reservations are most definitely required and the rooms fill up fast.
Tripoli Gerlach handles room reservations at Bruno's Motel for the BALLS event. Rooms are probably filled when you read this however we do run an honest Waiting List and as rooms cancel ;first name gets it. Contact TOM by clicking HERE. It is not worth trying to check for canceled room before mid July. Many people with reservations end up canceling at the last minute and our Mailing List has priority. DO NOT call Bruno's for a room in the Motel.
Bruno's Apartments
Next to the Motel are several apartments, usually occupied by Bruno's employees. Some of these are acceptable some are L.A. ghetto type accommodations. Prices vary and in almost all cases are more expensive than the Motel rooms. Reservations are handled by staff at the Country Club. You can call for a reservation at 775-557-2220 - again chances aree they are also filled but get you name on their Waiting List and good luck.
---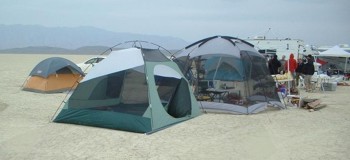 BLM allows us to camp out on the lake bed, or at the Cove near the launch site (watch for scorpions). Campfires are permitted at Black Rock but they must not be made directly on the surface of the playa. The BLM said NOT to make the fires directly on the ground. They should/must be in a container of some kind. BLM has shown and proven the surface of the lake bed is clay and the fire will bake it hard like pottery. This leaves a high spot after the rains and wind. Really! So make all fires in a container and try to keep them off of the ground - some. The standard fire container is the tub from a washing machine supported on bricks.
MOTOR HOMES
and camping trailers are becoming more and more popular. A search of the Reno area will reveal several Motor Home, Campers & RV rental companies that can provide you with a nice home on wheels. Remember these are NOT off-road vehicles, and the rental companies will make it known to you, however for a home on the playa they are great. Do not flush anything onto the ground. Sanitation facilities (Porta-Johns) will be present along with facilities to freshen up. DO NOT shower in the site facilities. And, do not bath in Bruno's rest room sinks.
RENO RV RENTALS
A convenient way to stay at Black Rock is to rent an RV. An RV can sleep several people depending on the size. Splitting the fee can bring the rental per person down to the equivilant of renting a room, or less! BE AWARE Make sure you understand all fees & costs. If the RV is returned washed and cleaned inside & out you can get a refund on some deposits which can bring the final price down substantially. Also if you can tow, you might consider a camping trailer.
SIERRA RV SUPERCENTER 1-800-972-8760 • (775)324-0522
9125 South Virginia St. Reno NV 89511
WEBSITE
CLASSIC ADVENTURES RV RENTALS 775-825-1200 • 866-825-8141
2802 Kietzke Ln Reno, NV 89502-4316
WEBSITE
---
BEST WESTERN Fernley
1405 East Newlands Drive, Fernley, NV 89408
WEBSITE
---
GERLACH HOUSES
3 BEDROOM VACATION HOUSE
Grove Street, Gerlach, NV 80412
Contact: Seth Schrenzel (415) 828-2408
Probably gone by the time you read this.

2 BEDROOM VACATION HOUSE
West Sunset Street , Gerlach, NV 80412
Contact: Rachel Bogart (775) 442-1919
Probably gone by the time you read this.